One of the Rarest Dragon breeds, only one is thought to exist at a time.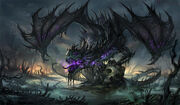 Their Eggs are a Deep Black with a Lime Green Glow
Description 
Edit
Due to Rarity no adults have been found in the Wild
LAIR OR NEST -
DIMENSIONS [ADULT] -
COLORATION - Black
FORMS OF ATTACK -
FOOD -
HOARDS- Skeletons
No one is sure where they originally began, they only show themselves who have survived death. They also show themselves to holders of The Death Arcana.
Ad blocker interference detected!
Wikia is a free-to-use site that makes money from advertising. We have a modified experience for viewers using ad blockers

Wikia is not accessible if you've made further modifications. Remove the custom ad blocker rule(s) and the page will load as expected.