One of the rarest dragon breeds, only one is thought to exist at a time.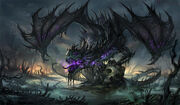 Their eggs are a deep black with a lime green glow.
Description 
Edit
Due to rarity no adults have been found in the wild
LAIR OR NEST - In a cave, volcano, or swamp
DIMENSIONS [ADULT] - Unknown, though it is presumed to be about 20 to 30 feet in length
COLORATION - Black, with purple or green accents
FORMS OF ATTACK - Purple fire Breath, really sharp teeth and claws, and a deadly tail
FOOD - Humans, rabbits, deer, bears, and crocodiles
HOARDS- Skeletons
SCIENTIFIC NAME - De Capitibus Draconis
No one is sure where they originally began, they only show themselves to those who have survived death. They also show themselves to holders of The Death Arcana.